The World Quality Report, released by HP, Capgemini, and Sogeti, presents the insight that the figure of companies comprising a full-fledged testing center has elevated from a mere 4% in 2011 to a dramatic 26% in 2014. This time, a crucial portion of VAPT testing budgets have gone to a kind of penetration testing featuring new practices that alleviate testing expenditures considerably in forthcoming years. Cloud penetration testing or cloud-based testing is surely a great initiative in this direction.
A series of companies are coming forward with the necessity of cloud testing, and CERT-In empanelled organizations are seeking to aid those firms by leveraging the most futuristic, cutting-edge technologies to conduct meticulous penetration testing for cloud networks.
What Do We Mean By Cloud Testing?
Lately, organizations are proactively adopting the cloud to avail the outstanding benefits of significant business functions obtained from a foreign supplier. A recent study in 2021 demonstrated that 90% of contemplated firms are currently using cloud computing, such as SaaS (Software-as-a-Service) services.
Since the stats of companies deploying cloud computing in their infrastructure are rising exponentially, so the probability of falling into the traps of con artists is at its height. Cloud penetration testing is a tactic for detecting vulnerabilities or flaws in the system, hosted on a cloud provider. And later render functional remediation solutions by exploiting the addressed loopholes in the cloud.
While performing cloud security testing, the auditor company adheres to all the CERT-In guidelines mentioned about the VAPT processes and testing strategies. Conduction of rigorous cloud penetration testing means seeking the security of your organization and developing a shield to protect the infrastructure against cyber risks.
So, are cloud penetration testing and penetration testing similar?
The term penetration testing is a process of conducting an in-depth security audit on a service, network, or system. When the security test is performed dedicatedly on the system hosted by a cloud provider such as Azure and AWS, known as cloud penetration testing.
How Does AWS & Azure Cloud Pentesting Get Done?
There are two well-known cloud-based services that companies rely on in order to support their business pursuits in the cloud. Both the cloud-based services i.e. Microsoft Azure and Amazon Web Services. These two allow penetration testing respective to any infrastructure hosted on Azure and AWS by the business until those security tests come under the category of "Permitted Services"
AWS users are free to conduct cloud security testing or pentest against their AWS cloud-based infrastructure without any pre-approval for 8 services. Those 8 services are listed under "Permitted Services."
Before carrying out cloud pentesting, make sure that the kind of activities businesses want to perform. And then, look for whether they are aligned with the set policies. Users are not authorized to carry out any sort of security tests on the AWS services or infrastructure themselves. In case you detect or address any security flaws in AWS services or infrastructure during vulnerability assessment, reach out to AWS security instantly.
Permitted Customer Services & Prohibited Activities For Cloud Security Testing
Find the list of Permitted Services and Prohibited Activities for customers in the tabular format below: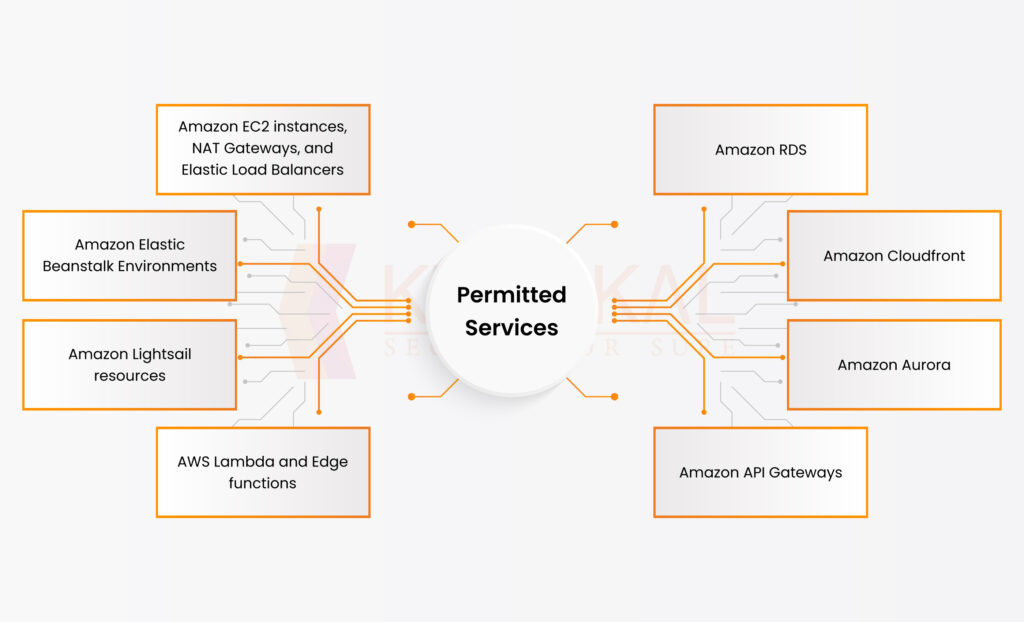 | Permitted Services | Prohibited Activities |
| --- | --- |
| Amazon Aurora | DNS zone walking using Amazon Route 53 Hosted Zones |
| Amazon EC2 instances, NAT Gateways & Elastic Load Balancers | Distributed Denial of Service (DDoS), Denial of Service (DoS), SDDoS (Simulated Distributed Denial of Service), and Simulated DoS (These are subject to the DDoS Simulation Testing policy) |
| Amazon RDS | Protocol Flooding |
| Amazon API Gateways | Port Flooding |
| Amazon CloudFront | Request flooding (for instance, API request flooding, login request flooding) |
| AWS Lambda and Lambda Edge functions | |
| AWS Fargate | |
| Amazon Lightsail Resources | |
| Amazon Elastic Beanstalk Environments | |
Table for Permitted Services & Prohibited Services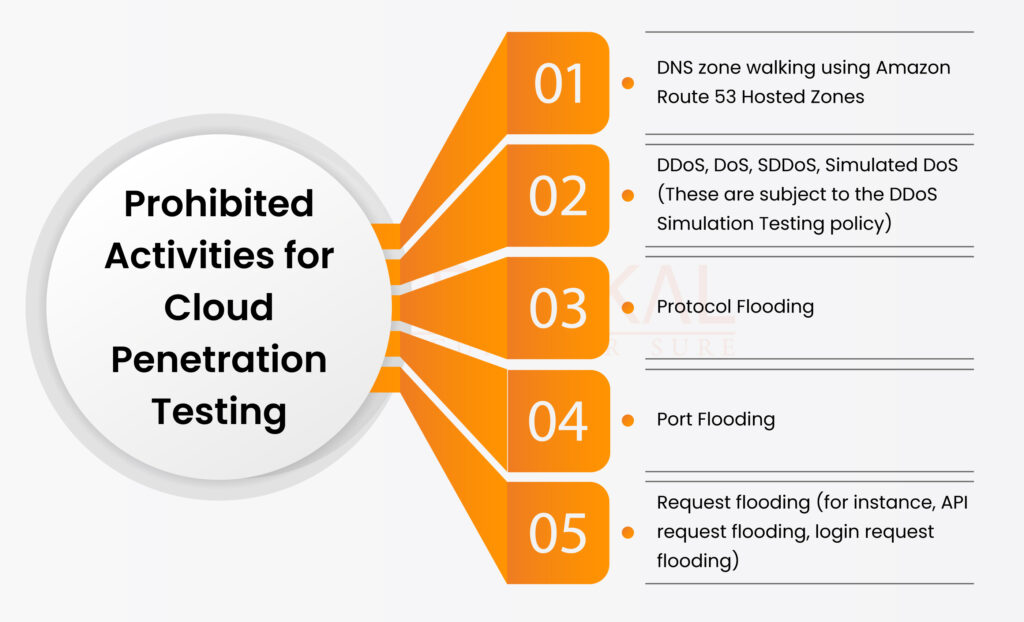 Top-Notch Cloud Penetration Testing Companies
In the hoard of thousands of cloud security testing companies, making your way in the search for the most reliable cloud testing company is a daunting task. Let us assist you with finding the list of top-notch cloud security testing companies. We did some legwork on your behalf to save your precious time and compiled a list that you can find below:
Kratikal Tech Pvt. Ltd.
Ernst & Young LLP
Deloitte Touche Tohmatsu India LLP
AQM Technologies Pvt. Ltd.
BDO India LLP
Accenture
Crossbow Labs LLP
Maverick Quality Advisory Services Private Limited
Aujas Cybersecurity Limited
CyberSRC Consultancy LLP
As per the updated list of 2022, there are 97 CERT-In empanelled organizations. And the aforementioned cloud security testing firms fall under the category of top 10 CERT-In empanelled companies that you can rely on. Wonder about the organization that offers the most reliable, tailored, and budget-friendly pentesting services? Turn to Kratikal Tech Pvt. Ltd. 
Apart from cloud penetration testing, we render mobile & web AppSec testing, network & server testing, medical & IoT device testing, and Secure Code Review. We believe in assisting clients during and post completing the security assessment. 
Share your knowledge about cloud security in the comments section down.