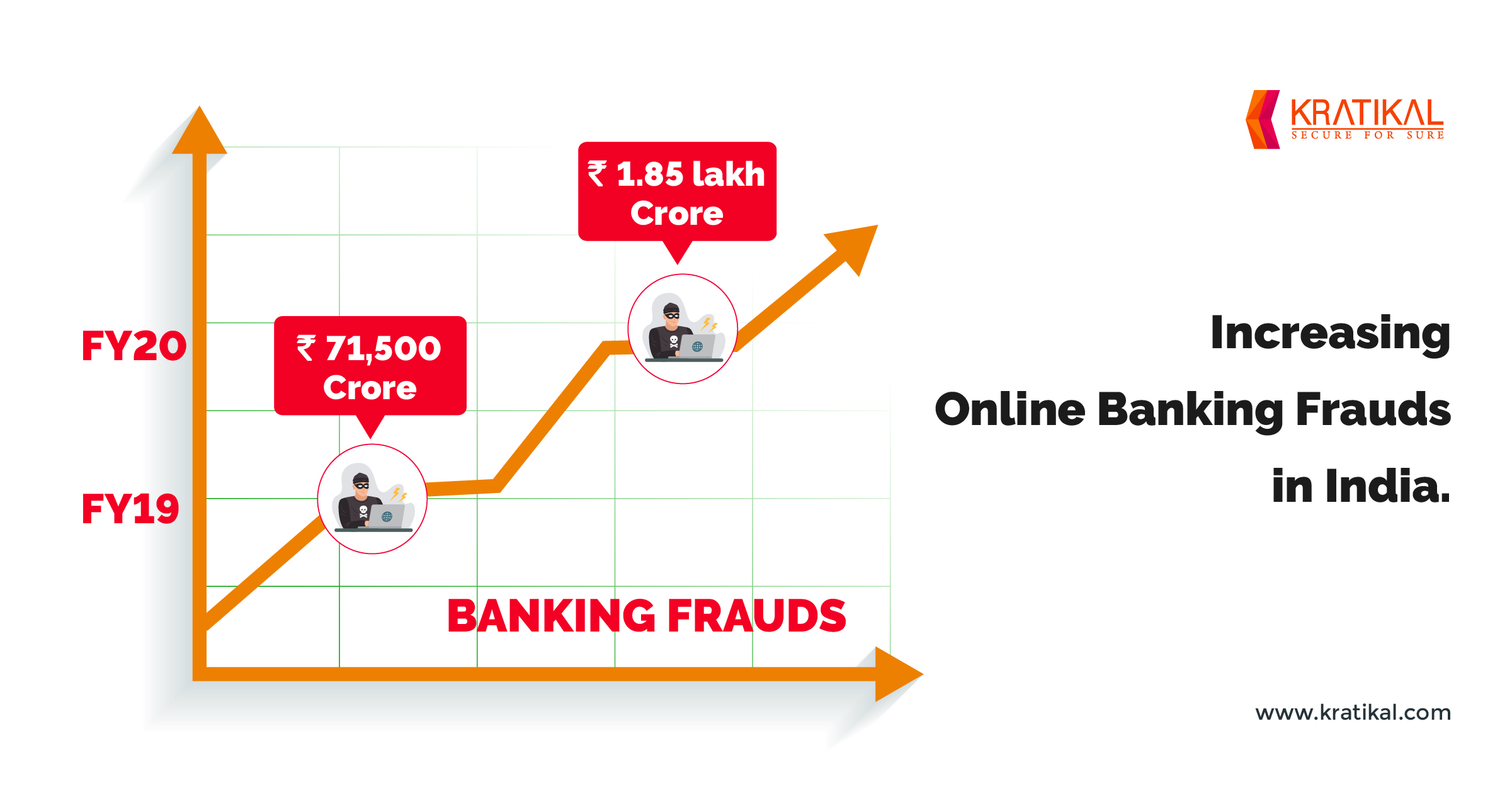 With the significant rise in the use of digital systems over the years, there has been a rapid increase in cyber frauds around the world. Cyber criminals have grown much more sophisticated, making it more complicated for organizations to defend themselves against cyber threats. 
As technology advances, we rely even more heavily on the internet today. Everything we do can be done online including work, entertainment, shopping, and banking. The internet has made doing everyday tasks considerably easier.
However, it has also led to a drastic rise in cyber crimes around the globe. Seeing how Indians have started doing online banking transactions more now, the number of online banking frauds in India has increased substantially.
According to the RBI's annual report, bank frauds of ₹100,000 and above have more than doubled in value to ₹1.85 lakh crores in FY20 as compared to ₹71,500 crores in FY19. Also, the number of such cases has increased by 28% in the same period.
However, the financial sector has been putting consistent efforts to secure the systems and users. But malicious actors are duping people over the internet by various means to steal their money or sensitive information.
Reports on Recent Online Frauds in India
According to a report by Hindustan Times, India has lost a total of  ₹615.39 crores in more than 1.17 lakh cases of online banking frauds from April 2009 to September 2019. The occurrence of these frauds is spread over a decade. But the banking industry is witnessing a significant rise in the number of online banking frauds.
"There was a concentration of large value frauds, with the top 50 credit-related frauds constituting 76% of the total amount reported as frauds during 2019-20. Incidents relating to other areas of banking, like an off-balance sheet and forex transactions, fell in 2019-20", said RBI.
"₹129 crores have been lost in just the last three months of 2019 and a total number of 21,041 such cases were registered in these three months", said Anurag Thakur, MoS, Ministry of Finance in Lok Sabha in reference to a recent online fraud in India.
How to Prevent Online Banking Frauds?
Consumers aren't the only ones facing online fraud. With the increasing number of data breaches and fraudulent emails targeting retailers and organizations, businesses are increasingly at risk of online fraud.
Becoming a target or a victim of such fraud does not only bring disruption to business operations. It also causes the organization the loss of customers' trust, brand reputation and sensitive data.
So, it is critical that organizations adopt certain cyber security measures to avoid learning an expensive lesson, which can often lead to more grievous consequences.
Best practices to Prevent Online Banking Frauds:
Keep financial data separate
Organizations must use a separate system dedicated to performing financial transactions and backing up the data in an external drive regularly. Moreover, restrict or limit access to financial information and data.
Banks never ask for personal information over the telephone, emails, or text messages. Therefore, avoid sharing PINs, passwords, or your organization's financial information without proper verification.
Create a strict password policy to avoid the risks of password sharing at work. Also, never leave files containing access to the financial information in an unsecured place. Moreover, make sure to always leave your computer locked when unattended.
Manage user authentication
Restrict email address/IP locations to allow only authorized users to make transactions on behalf of the organization. Make purchases only on authorized and legitimate websites and review the organizational financial statements regularly.
Educate employees about cyber security awareness with tools like ThreatCop. It helps in simulating cyber attacks to check the number of vulnerable employees in your organization and train them accordingly.
Providing this training makes the employees familiar with the attacks and give them the knowledge of what needs to be done when such attacks occur.
Where to Report Online Frauds in India?
In case you failed to take the precautions and become a victim then it is urged to immediately register a complaint with the local police or cyber crime authorities.
Also, the moment you realize that a suspicious transaction has been done from your bank account or your debit/credit card, inform the respective bank immediately.
Scams and online banking frauds have been constantly evolving and rapidly increasing over the years in India. Organizations should come up with more comprehensive and complex cyber security measures to protect the business and the customers.
Moreover, every industry should embrace a culture that following cyber security protocols is not a necessity but mandatory.
Turn Your Employees Into A Cyber Threat Shield
Make your employees proactive against prevailing cyber attacks with ThreatCop!