By reducing information risks and vulnerabilities, a process called information security, also referred to as infosec, protects electronic data. Data collection, organization, processing, and deletion are all included in the definition of data management. Data can be stored in text, picture, or video file formats on servers, desktop computers, laptops, or mobile devices. InfoSec measures must be put in place by any organization that deals with sensitive or confidential data.VAPT (Vulnerability Assessment and Penetration Testing) is useful in this situation. The use of VAPT services can help ensure that the security measures put in place for one's computer systems, network systems, and data are appropriate and up to par. They offer a viewpoint that aids in the analysis of any security flaws and failures. By doing this, you can lessen the impact of any undesirable acts hackers take.
In this Blog, we will mainly address what VAPT is, and why Vulnerability Assessment and Penetration Testing Services are Important in the Cyberworld. Along with advice on how to choose the right course of action for your security, the best VAPT companies in India will also be covered in detail.
What is VAPT?
The procedure of evaluating and identifying vulnerabilities within a system is known as vulnerability assessment and penetration testing, or VAPT. Testing is done to determine whether or not these vulnerabilities can be exploited after they have been discovered and identified. In order to mitigate these risks, appropriate measures must be taken if they can be exploited. In addition, to network VAPT, web application VAPT, and mobile application VAPT, there are many other uses for VAPT services.
A vulnerability report is submitted after a thorough review of the auditee organization's systems and procedures is carried out by an expert panel from any certified company as part of the vulnerability assessment process. While in penetration testing, the VAPT testing businesses use these defects and flaws to find out how far a con artist may go in abusing such vulnerabilities. The defending tactics are to be evaluated.
Why is VAT considered to be Important?
Vulnerabilities exist in the IT infrastructure at every level, regardless of the size of the Organization (Applications, Network devices & Cloud Infrastructure). The idea that small and medium-sized firms are generally ignored by hackers is untrue as small organizations' security is frequently weak, and attackers choose to target them. It has become even more crucial for enterprises to make sure that their systems are secure as the number of cyberattacks increases at an alarming rate worldwide. Organizations can determine whether their systems are vulnerable to attacks and take the required precautions to prevent them by performing Vulnerability Assessments and Penetration Tests.
Why choose a VAPT Company?
Utilizing a VAPT company is a wise decision for numerous reasons. In the beginning, they can assist you in determining your vulnerabilities and risks. In order to create a thorough security plan, this information is necessary. Additionally, they can aid in your defenses' effectiveness testing. Third, they can assist you in preparing your staff for potential assaults. They can also assist you in getting over an attack.
Top VAPT Companies in India
Application security, network security, cloud security, etc. are just a few of the many InfoSec services offered by cybersecurity firms in India. They offer a range of services, such as testing online software, testing mobile applications, and database security, among others. By using competent CERT-in Empanelled penetration testing companies to complete your VAPT, you can receive thorough bug reports, solutions to close the vulnerability, and complete satisfaction. Your organization can become safe, successful, and well worth the investment by hiring the right auditor. Let's quickly see the Top VAPT Testing Companies.
Kratikal Tech Pvt. Ltd
Deloitte Touche Tohmatsu India LLP
Genpact India
Tata Consultancy Services
Ernst & Young LLP
Let's have a quick look at the Top Companies listed above.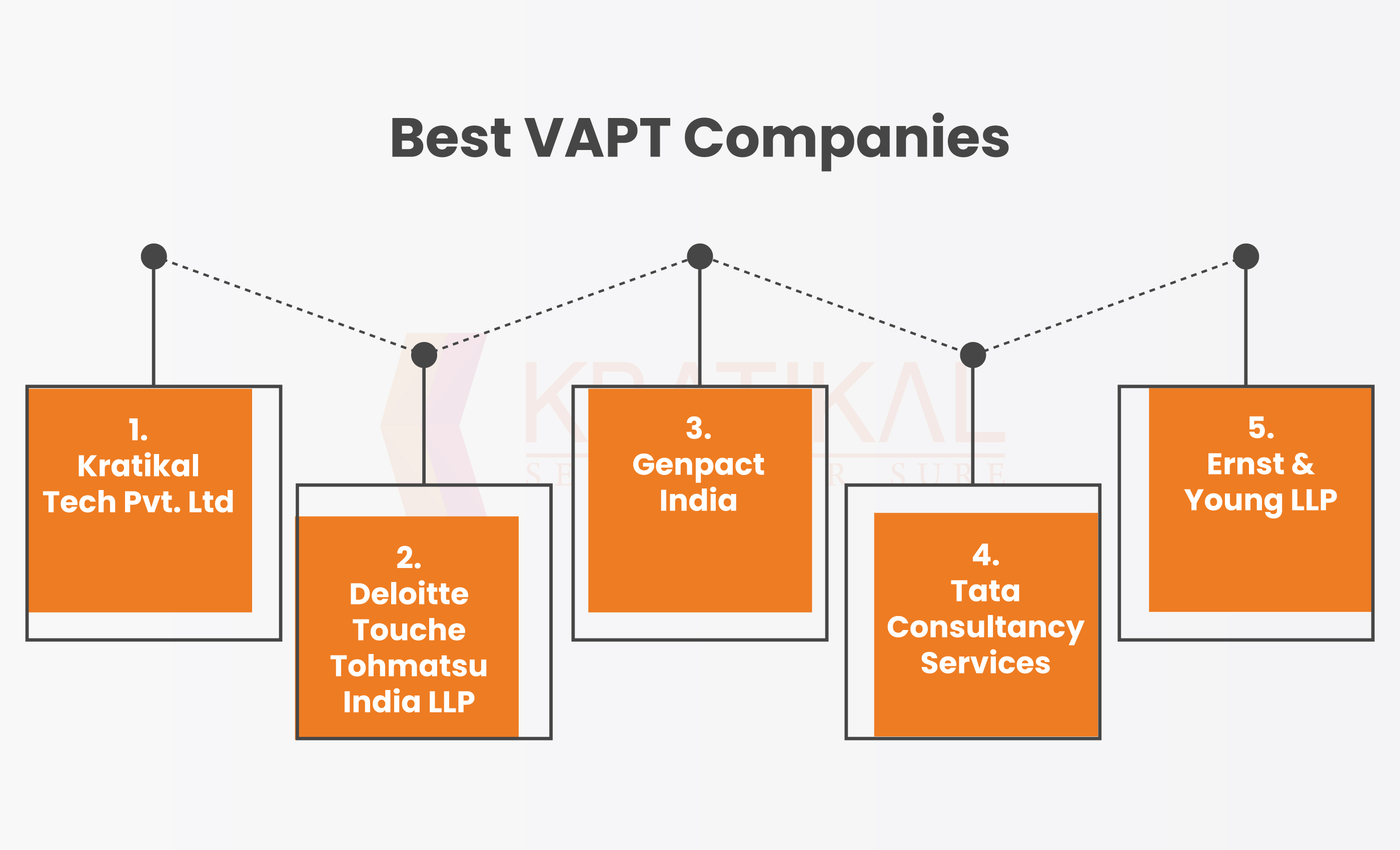 Kratikal Tech Pvt. Ltd. – Kratikal, one of the leading cybersecurity companies, is well known for its cutting-edge security solutions, which include a cyber attack simulation, risk detection, threat analysis, and code risk evaluation. In addition to security auditing for PCI DSS, HIPAA, GDPR, and ISO 27001, it provides a wide range of penetration testing and vulnerability assessment services. Through security testing, Kratikal, a CERT-In Empanelled security solutions provider, offers the services required to guarantee the protection of an organization's IT assets as well as the safety of its people. The entire VAPT service portfolio, which includes Network Penetration Testing, Application Penetration Testing, Cloud Penetration Testing, and many more, is made to assess the vulnerabilities in different devices and their networks so that they can be fixed in advance.
Deloitte Touche Tohmatsu India LLP – Deloitte collaborates closely with member firm clients to help organizations create and carry out an integrated cyber strategy that harnesses the power of information networks to improve company operations, mission performance, and customer service without compromising security or privacy. Deloitte provides a full range of services to assist complex organizations in determining their level of comfort with taking on cyber risks, designing and implementing Secure, Vigilant, and Resilient programs, and managing, maintaining, and adapting their programs over time as their operational and threat environments change.
Genpact India – Providing business results that change industries and sculpt the future, Genpact is a multinational professional services company. In order to transform their greatest challenges into opportunities, resilience, and growth, they collaborate with the most innovative businesses in the world. This includes everything from building hyper-connected supply chains to completely changing the way that customers and employees interact with them. To protect the security and privacy of your personal information, Genpact uses industry-standard security methods, such as but not limited to: Only Genpact workers who have a genuine need to know, such as when responding to a request or query, will be granted access to your personal information.
Tata Consultancy Services – With commercial activities stretched across continents, TCS is a world leader in the provision of IT services, business solutions, and outsourcing. As part of its operations, TCS has access to business-sensitive data (including IPR and personal information), the consequences of which may be harmful to the business interests of TCS or its clients. In order to provide TCS and its clients with an effective, secure, and safe working environment, they have reiterated their commitment to protecting all the information and assets that they hold or are accountable for in our Security Policy.
Ernst & Young LLP – The EY cybersecurity, strategy, risk, compliance, and resilience teams assist organizations in assessing the efficacy and efficiency of their cybersecurity and resiliency initiatives in the context of fostering company growth and operational strategies. Ernst & Young LLP is concentrated on offering cyber solutions in accordance with the client's needs due to the continuously increasing cyber dangers. They use state-of-the-art techniques and technologies to conduct rigorous VAPT. Ernst & Young LLP bases its work on the idea that by securing an organization's systems and procedures, it will be able to lead transformational changes, innovate quickly, and create a fantastic environment for its partners.
Book a Free Consultation with our Cyber Security Experts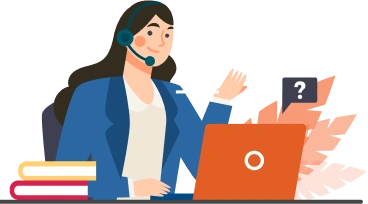 Kratikal to Evaluate the Risks of Your Organization
Your systems' vulnerabilities and the best ways to remedy them can be understood with the aid of a VAPT provider. Before hackers take advantage of your flaws, this procedure can help you identify and address them. In order to perform a vulnerability assessment, your system must first be scanned for flaws. Next, the ease of their exploitation must be evaluated.
Penetration testing goes one step further and tests your defenses by actually exploiting vulnerabilities. By doing so, you'll be able to identify your areas of weakness and the steps necessary to address them.
By doing vulnerability analyses and penetration testing, a VAPT company may assist you in protecting your systems from hackers. If you are aware of the dangers your company faces and how they could affect you, you can take steps to lessen the effects should a security emergency arise. With the use of our manual and automatic VAPT services, which identify, detect, and evaluate the vulnerabilities present in your IT framework, Kratikal, a CERT-In-empanelled company, can help you learn more about these dangers. To assist your company in adhering to the rules and legislation established by different governments, we also provide security auditing for compliance, including ISO/IEC 27001, GDPR, PCI DSS, and many more.
Our goal in writing this blog was to inform you about the VAPT organization and how to pick one. Mention your thoughts in the comment section below.